Become Licensed Applicator To Seal With Granite Shield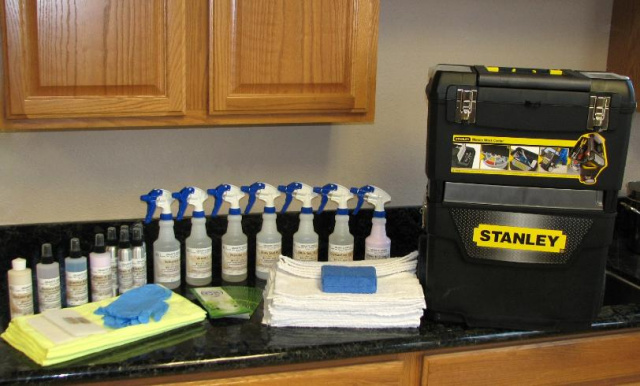 Business Opportunity
How to Apply the Granite Shield Permanent Sealer for Granite
Permanently Seal Granite Countertops and Other Hard Surfaces in the Home. Granite, Marble, Limestone, Travertine, Grout, Glass Shower Doors, Concrete, Stainless Steel
(No Experience Needed. Anyone Can Do It)
As Easy As 1, 2, 3, 4, 5.
Low Cost Business Opportunity. Thousands of Older Granite Countertops in Your Area
Need Your Help. Make Your Customer's Granite Countertop
Looks Better Than It Ever Did.
Smoother and Shinier with Permanent Sealer. Earn $1,000.00 or More Per Day.
Example of a Granite Shield applicator that only does
Granite Shield and makes approximately $10,000 a month.
Great business to be self employed working your own hours. Mother's when
kids are in school, handymen, carpet cleaning service, retirees, college
students, part time work, need extra income and of course granite
fabricators and installers of natural stone.
As low as $599.99 to get started.
Granite Shield is a national and international sealing service providing customer leads to authorized Granite Shield applicators.
Applicators and granite fabricators are independent contractors and businesses and are not employees of the Granite Shield corporate office.
Copyright 2012. All rights reserved. Granite Shield is a registered trademark.
Kleen N Shine, Kleen N Seal, Kleen N Shield, Granite Kleen, MicroArmor, Silicabright, Pro-Armor, Pro-Premier, Crystasheen, Armor, Nustone Kleen, Premier, Ultra Seal, Stone Shield, Krete Shield is a trademark and/or registered trademark of Granite Shield.