Travertine sealed by Granite Shield coke left on travertine 24 hours still showing bead and left no etch mark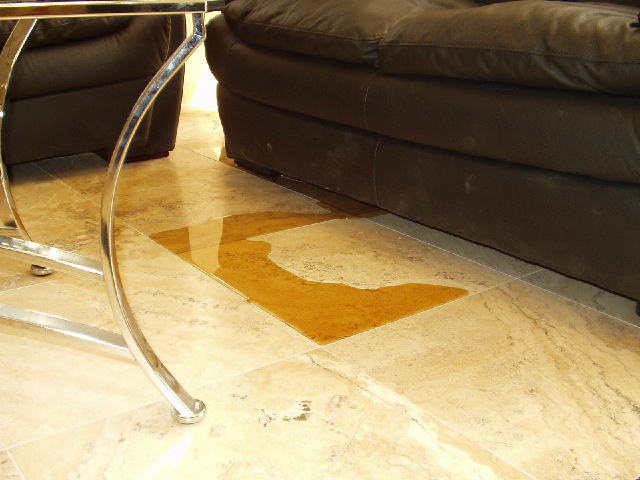 Any liquid under a pH 7 is considered acidic. Coke is 2.5. Coke etch Travertine
Why Use Granite Shield on Stone Other Than Granite?
Luis Carreras from L.P. Carreras & Associates writes, "First of all, I would like to thank you for the
prompt and professional service I received from you and your staff at Granite Shield. I would also
like to share with you a little story of an event that occurred a couple of days after you completed
the job. At about 3:00 in the morning I was awakened by my teenage son advising me that his
bathroom was overflowing with water. I quickly got up and was greeted with his bathroom having
about 1/4 of an inch of water from an overflowing toilet. I quickly shut off the water supply to the
toilet and proceeded, with my wife and son, to clean up the mess. To my great surprise, the
travertine floor that had been treated by your company actually held out the water and as soon as
we dried it up, the floor showed no water spots of any kind. As a matter of fact, the bathroom is
located on the second floor and to my great surprise we had no leakage onto the first floor. You
may use this testimonial if you so desire, as part of your advertising as I am very happy with the
way your "Granite Shield" has functioned thus far. I have and will continue to recommend your
company.
Luis P. Carreras, EA, AT"
Flooring is under warranty for 10 years from the time of application, 5 years at
100%, years 6 - 10 are prorated. Flooring must be maintained with Granite Shield's Nustone Kleen a
neutral stone cleaner and at least once a month with Granite Shield's
Kleen N Shield cleaner.
*Etching of calcite based stones such as Absolute Black, Blue Bahia, marble/travertine/limestone
due to acidic liquids and alcohol is not covered under the Granite Shield warranty.*